Fundraiser Supports BIZAA
Thank You!
2017 Bargains and Beyond Rummage Sale Raised Over $12,000 to Help Fund Operational Expenses at the BIZAA College of Technology and Nursing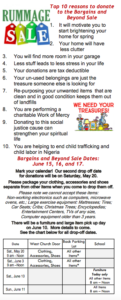 Click to enlarge
*The sale of your donated items raised funds to be used for BIZAA, the St. Vincent de Paul Catholic Church International Outreach Program. BIZAA, Basic Institute for Zonal African Advancement, works to eliminate child labor and child trafficking in Nigeria through education–one child at a time.